If you enjoy a good mystery, cozy or otherwise, why not join us on the third Monday of the month at 7 p.m. for conversation and socializing. All are welcome! We meet in hybrid format, i.e., join us in-person or via Zoom. If you would like to join us via Zoom, please send an e-mail to registrations@boontonholmeslibrary.org, and we will send you the Zoom invite.

Copies of our selections are available for check out at our front desk on a first-come, first-served basis. They are available in hardcopy or pre-loaded onto circulating Kindles.
Upcoming Titles
August 15
Open Season by CJ Box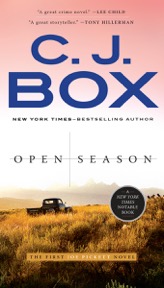 The first Joe Pickett novel from #1 New York Times-bestselling author C.J. Box.
Joe Pickett is the new game warden in Twelve Sleep, Wyoming, a town where nearly everyone hunts and the game warden—especially one like Joe who won't take bribes or look the other way—is far from popular. When he finds a local hunting outfitter dead, splayed out on the woodpile behind his state-owned home, he takes it personally. There had to be a reason that the outfitter, with whom he's had run-ins before, chose his backyard, his woodpile to die in. Even after the "outfitter murders," as they have been dubbed by the local press after the discovery of the two more bodies, are solved, Joe continues to investigate, uneasy with the easy explanation offered by the local police.
As Joe digs deeper into the murders, he soon discovers that the outfitter brought more than death to his backdoor: he brought Joe an endangered species, thought to be extinct, which is now living in his woodpile. But if word of the existence of this endangered species gets out, it will destroy any chance of InterWest, a multi-national natural gas company, building an oil pipeline that would bring the company billions of dollars across Wyoming, through the mountains and forests of Twelve Sleep. The closer Joe comes to the truth behind the outfitter murders, the endangered species and InterWest, the closer he comes to losing everything he holds dear.
September 12
1979 by Val McDermid
1979. It is the winter of discontent, and reporter Allie Burns is chasing her first big scoop. There are few women in the newsroom and she needs something explosive for the boys' club to take her seriously.
Soon Allie and fellow journalist Danny Sullivan are exposing the criminal underbelly of respectable Scotland. They risk making powerful enemies – and Allie won't stop there.
When she discovers a home-grown terrorist threat, Allie comes up with a plan to infiltrate the group and make her name. But she's a woman in a man's world . . . and putting a foot wrong could be fatal.
This is the atmospheric, heart-pounding first novel in a gripping new series by the Queen of Crime Val McDermid.